"Specializing in Custom Music Products!"
AMBROSONICS Demos
This page contains Audio & Video Demo's of AMBROSONICS Guitars, Accessories & Products.
Pickup Director™
Guitar & Bass Programmable Switching Systems
These videos explain just a few of the capabilities of the Pickup Director™ in Guitars with our systems installed!
Features Push/Pull POT for Pickup Menu Selections, Connectivity to your existing 5-Position Blade switch or 3-Position Main selector switch and the included Mini Toggle 3-position Bank Select switch all at your finger tips for easy pickup control.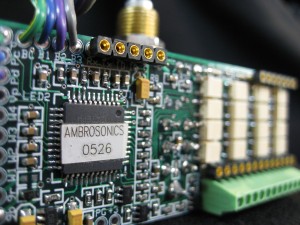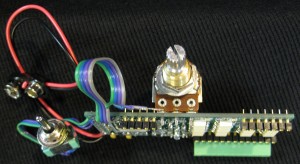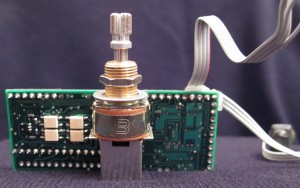 Pickup Director™ Deluxe with Optional Screw Terminal                        Pickup Director™ Deluxe                                                   Pickup Director™ Backside
The Pickup Director™ series of products are designed to get the most out of any guitar by "Directing" or blending your various guitar and bass pickups! Our products are designed for all kinds of musicians and many musical genres. Designed and Manufactured in the United States of America.
YouTube Videos








HD Audio Guitar & Bass Preamp

These are just a few sound clips of the HD DSP Preamp in the
AMBROSONICS Guitar shown here using passive EMG HZ Pickups!

Features Analog Distortions, True By-Pass Switch & DSP Controls all at your finger tips with Headphone Outputs and iPOD input.

          Clean Sounds
                Distortion Sounds
Videos

             Switch 1

Up = Clean

Center = Analog Distortion 1

Down = Analog Distortion 2




     Switch 2 (Optional)

Up = True By-Pass Mode

Down = Analog & DSP Mode




           Control POTs

Master Volume Control

Variable Analog Distortion Level

DSP Selector Knob

Variable DSP Effects Level

          Effects Presets

0 = No Effects

1 = Hall 1, deep warm large hall reverb

2 = Delay 1, 125mS slapback delay

3 = Wah/Room 2, auto-wah effect w/ slight reverb

4 = Chorus/Hall, a super sweet chorus w/ reverb

5 = Delay 2, percussive 190mS delay

6 = Hall 2, bright hall reverb w/ big depth

7 = Leslie Simulator, a slight rotary organ effect

8 = Plate 3, a vintage short plate reverb system

9 = Room 1, small hardwood studio room acoustics

10 = Chorus, stereo chorus

11 = Plate 1, classic plate reverb

12 = Plate 2, bright plate reverb

13 = Flanger, slight stereo flanger

14 = Room 2, live room ambience

15 = Room 3, warm room reverb